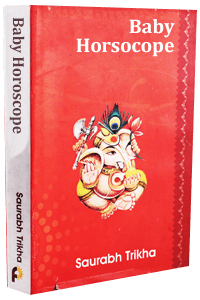 A comprehensive 100+ page report that contains the future of your little bundle of joy!
A new born baby harbingers love and warmth in our lives and we pledge to do all we can and then some more for our precious little one. As our babies are born we consult an astrologer to get a Janam kundli made of our baby so that we know what to expect and how to safeguard our infant from any danger that might befall him/ her.
All Important charts & Calculation
Gem Selection as per Dasha
Role of Planets in your life
Physique, Health & Nature
Finance, Family, Eyes & Speech
Coborns, Publications, Music & Short Travels
Education, Mother, Conveyence & Property
Love Life, Children & Intellect
Disease, Enemies & Servants
Family Life, Marriage & Business Partner
Longevity, Accident & Insurance
Fame, Worship & Long Travels
Profession, Father, Status & Power
Friends, Society & Elder Brothers
Foreign Journeys, Debts & Net Savings
Premium Baby Horoscope Report
A binded colored book with all the predictions for your baby's future.
NOTE: There are two variants available for Baby Horoscope in the coloured version. You can get a soft copy mailed to you within minutes of your order, or you can avail the premium version of this report, wherein you can avail a soft copy as well as get a Baby Horoscope book delivered at your doorstep.
Baby Horoscope Basic Detail
The Baby Horoscope is a report that focusses on your baby and accurately predicts all the important elements of his/her birth chart. With calculations, predictions and remedies like best-suited Gemstones, Rudraksha, Mantra and list of articles for donation- the Baby Horoscope Report also suggests powerful remedies that will benefit your child in case of any ill fate. Important information like the lucky day, lucky number, lucky colour, gemstone, deity, Mantra has also been included.

The Report talks in great detail about the useful & beneficial remedies through Rudraksha and gems as per horoscope. Remedies for Sade Sati, Manglik Dosha & Kalsarp Yoga have also been explained.

In Baby Horoscope along with predictions, the comprehensive astrological calculations have also been given which are excellent for an astrologer to have an idea about the future of the child. Panchang of Birthday, Avakahada, Planetary Degrees and their Position, Calculation of Birth Chart, Moon Chart, Navamsa, Chalit, Nirayana Bhava Chalit etc also find their places in the report.

The Baby Horoscope Report also contains remedies and precautions that your little one could take in order to maintain distance from harm.